Terminal without fees for up to 36 months!

We created the Smart Business product line together with our customers. They know the best what they need and in what form.

Thanks to our expertise and the plug & play formula, our solutions allow customers to significantly reduce implementation time, and the final result is exactly what they expect.
We also like challenges. Every new implementation brings something interesting, and that is the reason why we are flexible and adapt our solutions to the customer's needs.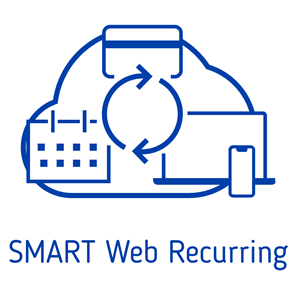 Smart Web Recurring – Application
The Smart Web Recurring is a solution designed for service providers who have internet websites or mobile applications and want enable automatic subscription payments, e.g.
fitness clubs
telecommunication services and cable television providers
electricity, gas companies
medical services
resources and archives access
schools, kindergartens
Solution properties:
easy subscription to the service

immediate card verification
full automation of recurring card payment
significant increase in customer conversion in comparison to direct debit
easy integration with a website or a mobile application
maximum transaction security (card numbers are unavailable to the terminal handling staff)
Smart Web Recurring is a solution enabling subscription to recurring card payments on a website or in a mobile application.



The customer selects the product on the website at any time and agrees to recurring card payments.



In only a few seconds the card is verified in a bank and its number is replaced by a secure substitute in the process of tokenization.

Card is charged automatically, in a cycle and amount agreed between the service provider and the customer.